ENDPOINTSNEWS: On a quest to challenge Novo Nordisk in obesity, transpacific startup picks up $70M — and a pair of seasoned execs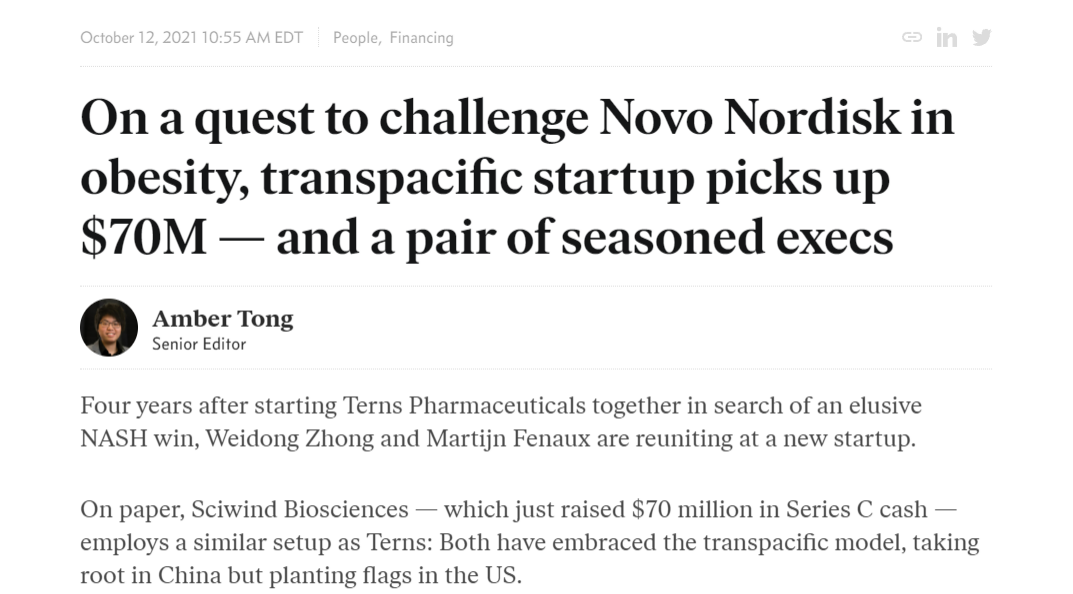 — AUTHOR: Amber Tong, Senior Editor
— REPRINTED FROM ENDPOINTSNEWS
— ORIGINAL LINK: https://endpts.com/on-a-quest-to-challenge-novo-nordisk-in-obesity-transpacific-startup-picks-up-70m-and-a-pair-of-seasoned-execs/
Four years after starting Terns Pharmaceuticals together in search of an elusive NASH win, Weidong Zhong and Martijn Fenaux are reuniting at a new startup.
On paper, Sciwind Biosciences — which just raised $70 million in Series C cash — employs a similar setup as Terns: Both have embraced the transpacific model, taking root in China but planting flags in the US.
Zhong was tapped to be president of the San Francisco-based subsidiary back in July, on top of assuming the role as chief strategy officer. Weeks later, Fenaux has been appointed SVP, nonclinical development and translational science at the parent company out of Hangzhou — joining the team alongside chief scientific officer Xinle Wu, who brings experience running R&D for both Eli Lilly and Amgen in China.
Whereas Terns is focused on NASH and other liver diseases, Sciwind positions itself as a specialist in metabolic disorders. The three lead candidates all congregate around GLP-1 receptor agonism, a mechanism that Sciwind reckons is relevant across fatty liver, obesity and diabetes.
The new infusion marks Sciwind's second financing in a year, having bagged $37 million in February to fuel the clinical work underway for XW003 (long-acting GLP-1 peptide analog) in type 2 diabetes and obesity. Topline Phase II data are expected in the second half of 2022.
To reach those massive markets, the biotech would first have to steer past giant rivals like Novo Nordisk, whose GLP-1 peptide analog semaglutide is already approved in the US for both of those indications.
Then there's the follow-on XW004, which is designed for once daily rather than once weekly administration, slated for first-in-human trials later this year; and XW014, a preclinical small molecule GLP-1R agonist.
But IDG Capital, Loyal Valley Capital and LYFE Capital have no trouble believing in Sciwind and founder/CEO Hai Pan, leading the latest round.